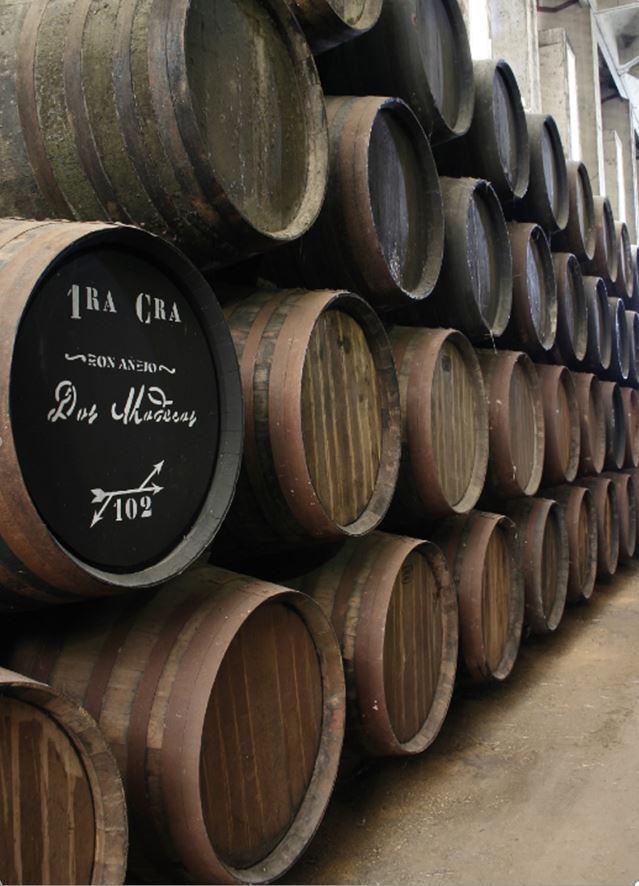 Bodegas Williams & Humbert was founded by two Englishmen, Alexander Williams and Arthur Humbert, in 1877. It produces some of the most well know Sherry and Brandy de Jerez. The Bodega has been producing Dos Maderas rums for over 20 years. It started as a project to demonstrate how we could enhance a product with our ageing process of Criaderas and Soleras, which the Bodega use for ageing our Sherries and Brandies and using our century-old casks, which are sought after by many of the top Whisky houses.
Dos Maderas means "Two Woods" and is the result of combining two different cultures, that of the Caribbean, well-known for its exceptional rums, and of Jerez, a city in southern Spain famous for its Sherry and Brandy.
Dos Maderas 5+5 PX begins its journey in the Caribbean, where we carry out a careful selection of rums from Guyana and Barbados. These rums are statically aged for five years in casks that have previously been used to age Bourbon. The rum is then shipped to Bodegas Williams & Humbert in Jerez, where the second stage of ageing commences in our traditional Solera system.
The casks chosen to age Dos Maderas 5+5 are over 100 years old and have been used to age our Palo Cortado "Dos Cortados" and Pedro Ximénez "Don Guido". Palo Cortado is a dry Sherry, very aromatic and full of flavour. Pedro Ximénez is a very sweet, dark Sherry made from grapes that, once harvested, are left out in the Andalusian sunshine to become raisins.
We can therefore say that Dos Maderas 5+5 is a triple aged rum, in fact, it could be called 5+3+2! That is, 5 years ageing in the Caribbean, 3 years in Palo Cortado sherry casks and 2 years in Pedro Ximénez sherry casks.