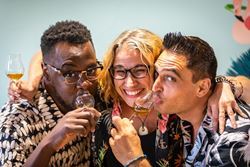 RUM SHOW MAIN STAGE TIMETABLE
Join hosts Dawn Davies MW, Georgi Radev and Sly Augustin – along with some very special guests – as they pour a few samples and tackle some of the great rum questions live on stage.
Ground Floor - Bridge Room - Free to attend
FRIDAY 14 JULY
6.00-6.45PM CUBA - THE NEW REVOLUTION
A new chapter in the history of Cuban rum is beginning. Dive deep into the culture and heritage of this revolutionary spirit and discover the craft and innovations of the maestros del ron Cubano.
7.00-7.45PM BRITISH RUM
From the Scottish Highlands to the south of England, British distillers are turning their hands to rum. Meet the pioneers of this burgeoning scene and find out why rum made the UK might just be the next big thing.
8.00-8.45PM GREAT RUM SHOW QUIZ
So you think you know rum? Show hosts Sly and Georgi present the ultimate test of rum knowledge to put you through your paces. Lots of fun to be had and amazing prizes to be won.
SATURDAY 15 JULY
1.30-2PM AGE MATTERS OR DOES IT?
Is age a true measure of quality in rum? Or are we just too obsessed with the numbers on the bottle? Join our experts for a lively discussion about one of the most hotly debated topics in rum.
2.30-3PM MAKING OF THE MODERN HISTORY OF RUM
The rum renaissance is well underway, as producers around the world explore the possibilities of this centuries old spirit. In this session we'll find out how the world of rum is changing and ask the crucial question, 'where does it go from here?'
3.30-4PM HOW MUCH FUNK IS TOO MUCH FUNK
Fruity, intense and occasionally downright weird, funky rums are beloved by their fans for their vibrancy and character. The question we're asking here is, 'can you have too much of a good thing?' Join us as we explore the extremes of rum and the limits of flavour.
4.30-5PM ISLAND LIFE - RUM, CULTURE AND SENSE OF PLACE
Landscape and climate play their part in shaping spirits, but it's people that bring them to life. This session explores rum's relationship to community, placemaking and culture.