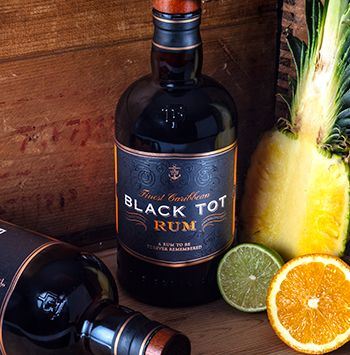 THE REAL STORY OF NAVY RUM
Named after the famous Black Tot Day on 31st July 1970 when the British Navy was given their final rum ration, Black Tot honours authentic blending techniques of the past while providing a celebration of history for today.
Founded in 2010 with the release of Last Consignment, the Black Tot range includes:
BLACK TOT FINEST CARIBBEAN
A rum inspired by tradition, blended for the tastes of today.
BLACK TOT 50TH ANNIVERSARY LIMITED EDITION
A deliciously layered blend celebrating of the 50th Anniversary of Black Tot Day.
BLACK TOT LAST CONSIGNMENT
The very last remaining stocks of Royal Navy rum bottled as a piece of liquid history.
BLACK TOT RARE OLD 40 YEARS
'The Heart of the Tot', such was Guyana's importance in the historic Navy Rum blend.
At Rum Show we will also be revealing our newest addition to the Black Tot family – Black Tot Master Blender's Reserve.