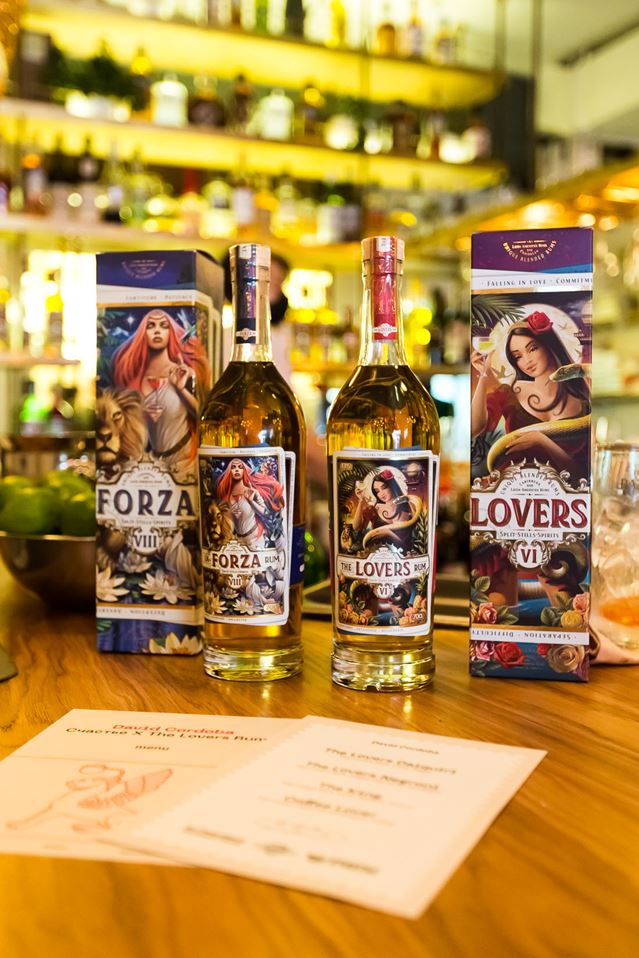 A blend of rums, each with its own style, character, personality and flavour, much like our own mix of ethnicity and cultures, combining five very distinctive Latin American and Caribbean rums. Our unique bottle feature displays a Tarot card label that is instantly recognisable. The design displays a myriad of layered symbols that directly connect the characteristics and flavour profile of this rum. The label's story is one of adventure, exploration and fantasy, full of hidden messages. As each new rum in this series is released, a unique Tarot card label on the bottle will tell the story of the rum inside
The Lovers Rum was born out of a passion for the liquid that gave base to some of the most well-known classic rum cocktails, and its concept was inspired by a family tradition of fortune-telling amongst the women in my family. These women read Tarot cards for the family to predict the future; my grandmother passed this down to my mother, and she passed this down to my sister, who also took this up as a hobby rather than a profession, so I wanted to honour their memory with this rum. In the same fashion as a rum Master Blender places a liquid into barrels to create something for the future, anticipating the taste of that liquid, these women predicted the future with Tarot cards
The Lovers Rumis a blend of rums, each with its own style, character, personality and flavour, much like our own mix of ethnicity and cultures. Our blend combines the styles of five very distinctive Latin American and Caribbean rums.
- Barbados Roasted walnut, banana, black pepper, followed by tobacco and smoky oak tannins. The oak notes provide a long dry finish.
- Dominican Republic Cinnamon accented by vanilla and toasted coconut. A combination of woody and herbaceous notes that evolve on the palate, with heat and spice returning on the medium-long finish.
- Nicaragua Mild aromas of cola and wood. Dark roasted coffee with a hint of chocolate and sweetness that quickly turns into a dry finish.
- Guatemala All-spice, cacao, banana, and root beer. Deep and dark flavours, with cashew, cinnamon and vanilla bean.
- Panama A smoky oak and vanilla-laden aroma, followed by subtle hints of dark chocolate that fade as the oak tannins dominate the mid palate.
TASTING NOTES Our blend has an initial aroma of ripe tropical fruits, followed by a delicate flavour combining fruity, sweet and peppery notes with dryness and elegant tannins that seduce your palate, leaving you wanting more
La Forza Rum on the nose is a new blend with an intense aroma of toffee and leather polish, that is followed by a rich date cake and Christmas pudding and marzipan, ending with toasted almonds. Based on the Strength Tarot card which often denotes many types of strength from emotional, spiritual, sometimes physical but more often than most it denotes Perseverance.
Featuring rums from, Barbados, Guyana, Guatemala, Jamacia and Venezuela
On the palate, a surprising and excitingly bone dry palate contrasts the rich fruity aroma, but still shows all the aspects of the nose along with touches of liquorice and deep oak spices. These evolve and turn fruity with a very light touch roast banana and mango.
Finishing with a long and complex finish leaving a velvety texture on the tongue as they draw
themselves out with hints of black pepper and nutmeg.